About PartsTech
Parts Ordering, Reimagined
Aftermarket cataloging for the 21st century. PartsTech enables installers to buy millions of products from a network of over 25,000 parts suppliers locally & nationally. No more wasted time on the phone or checking multiple websites...PartsTech helps installers find the right part, at a fair price, day in and day out.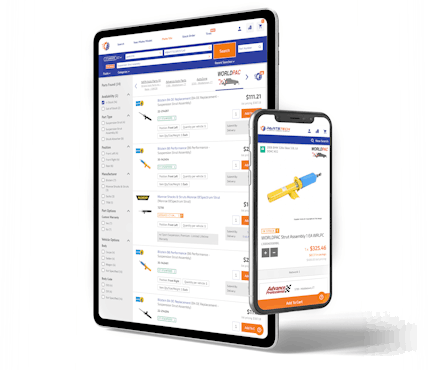 How PartsTech Helps
The Automotive Aftermarket
Repair Shops
Repair shops across the country rely on PartsTech to find parts fast and keep cars moving. PartsTech helps shops find the right parts, at a fair price, day in and day out.
PartsTech puts all of your suppliers, all in one place. One search shows you live wholesale pricing and inventory from all of the people you buy from. Plus, PartsTech integrates directly with many of the latest shop management systems.
Distributors
PartsTech helps brick and mortar distributors focus on their strongest asset, service. We make it easy to sell parts online. That's why over 27,000 parts stores across the country trust PartsTech.
With PartsTech your inventory is built right into your customers workflow. Your shops can place orders electronically without ever leaving their management system.
Manufacturers
PartsTech is the best way to ensure your product information reaches the point of sale fast. In fact we have the fastest live-to-site times in the industry.
Quality product data is what sells parts. That's why PartsTech sources the latest product information direct from the manufacturer.
Shop Management Systems
Developers love PartsTech. Our API is a plug-and-play solution for adding parts ordering to your application. Our supplier network is one of the largest in the industry with the catalog to back.
The PartsTech API already powers parts ordering for a growing list of the latest and greatest shop management systems.
A Peek Into the Future With Partstech Labs
Come check out what our R&D team has been up to.
Come Join the PartsTech Family