March 31, 2022
Blog
Uncategorized
3 mins read
The PartsTech team has been hard at work adding new features, supplier integrations, and improvements to the system. Here are some of the things we released this month.
System Updates:
Click to See out of Stock Parts on PartsTech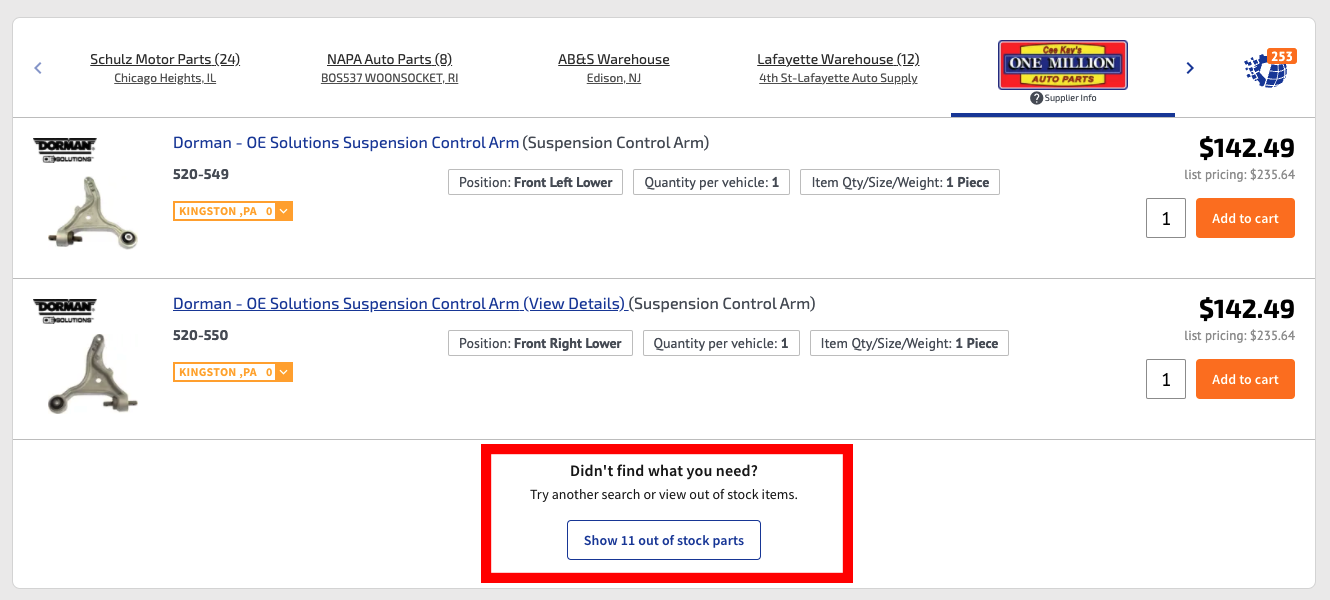 You can now see out-of-stock products with the click of a button. Several users reached out and asked for an easy way to view out-of-stock parts when their supplier doesn't have want they're looking for in stock. Now you can click the "Out of Stock" button to quickly see those products.
New Supplier Integrations:
ACI Parts Plus is Now Available on PartsTech!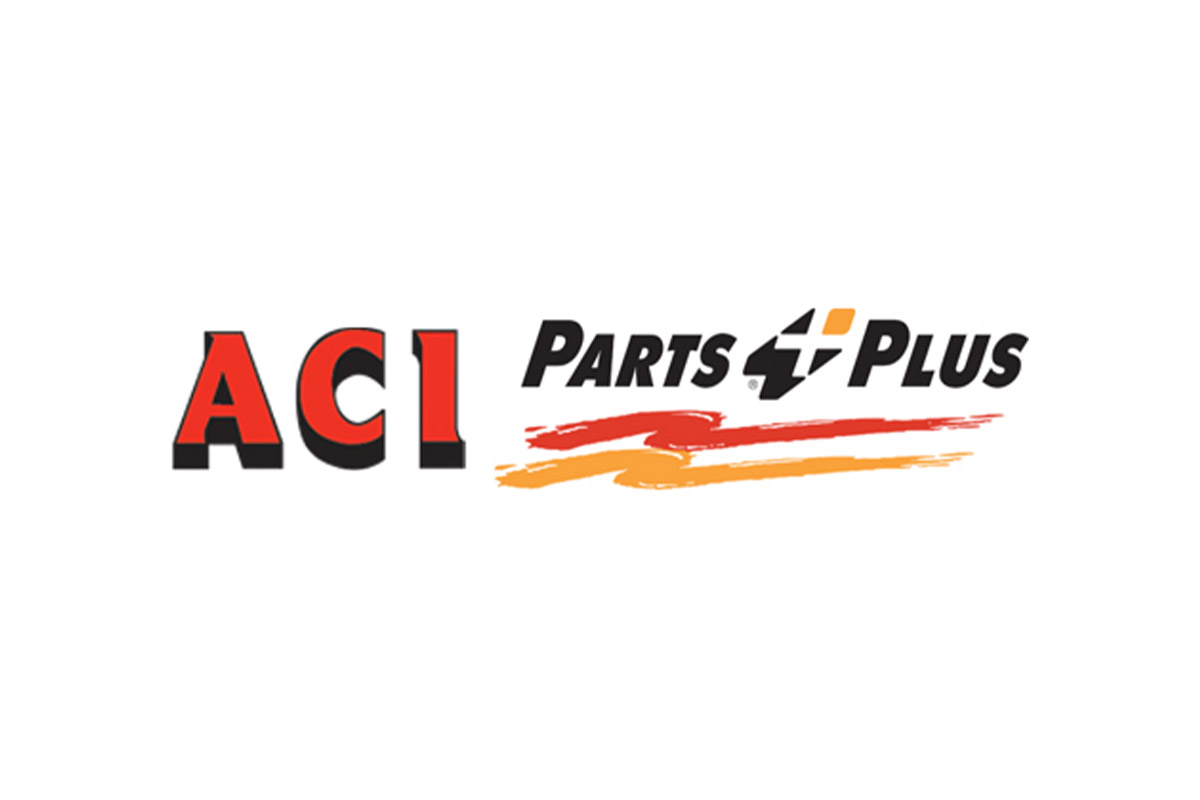 ACI is a family-owned, family-operated, and family-oriented company serving Michigan, and Northern Ohio. ACI is focused on providing excellent customer service and understanding the needs of the professional installer.
Adding ACI – Parts Plus to your PartsTech account is easy For a step-by-step walkthrough, you can check out our Knowledge Base guide here.
OK Automotive is Now Available on PartsTech!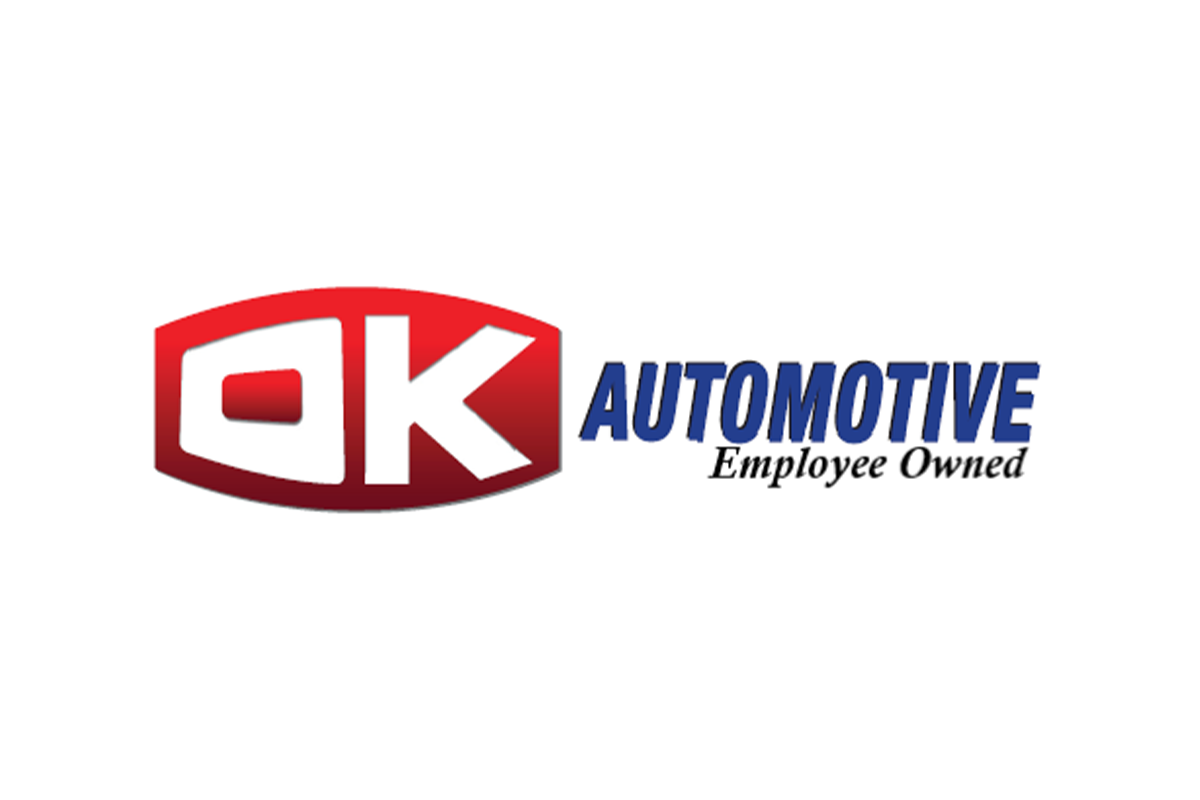 OK Automotive has provided quality automotive products and services at competitive prices for over 30 years since opening their doors in 1987.
Adding OK Automotive to your PartsTech account is easy For a step-by-step walkthrough, you can check out our Knowledge Base guide here.
PartsTech Tires Updates:
New Feature: PartsTech Tires Comparison Tool
Earlier this month we launched our new PartsTech Tires Comparison Tool. Now PartsTech Tires comes built-in with a powerful sales tool! We want to make it fast and easy to sell more tires. Now you can quickly create Good/Better/Best tire comparisons for your customers. This new feature is now live as part of our PartsTech Tires subscription. Interested in adding a PartsTech Tires Subscription? Click here to learn more!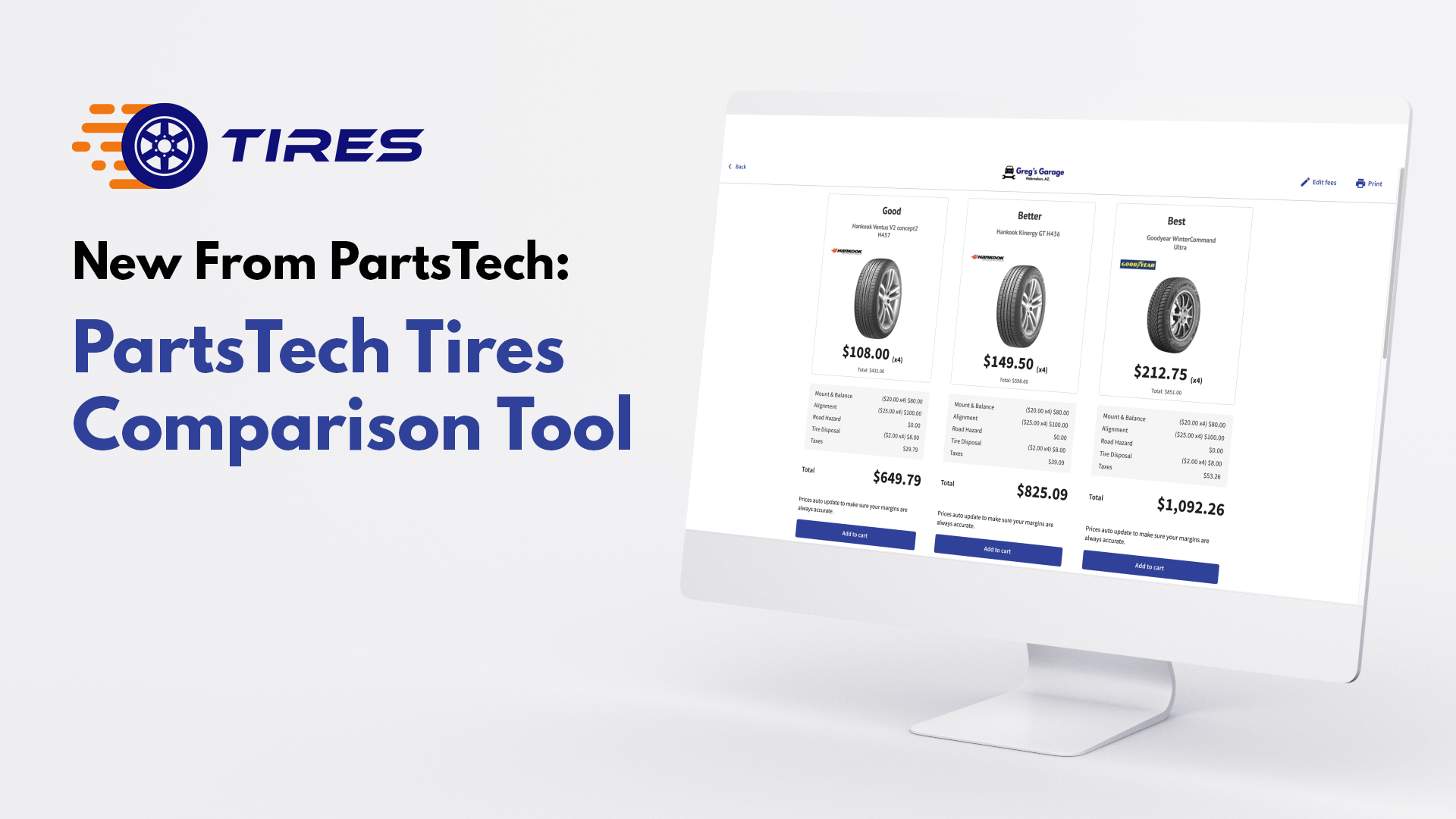 Build Your PartsTech Tire Pricing Matrix & Start Building Quotes
To get the most out of this new feature we recommend that PartsTech Tires subscribers take a moment to fill out their pricing matrix and associated fees in the Tire Pricing menu. Your tire pricing matrix and fees should reflect what's already in your shop management system. We have a knowledge base guide here to get you up to speed.
Hide Your Cost and Show Retail Pricing on Tires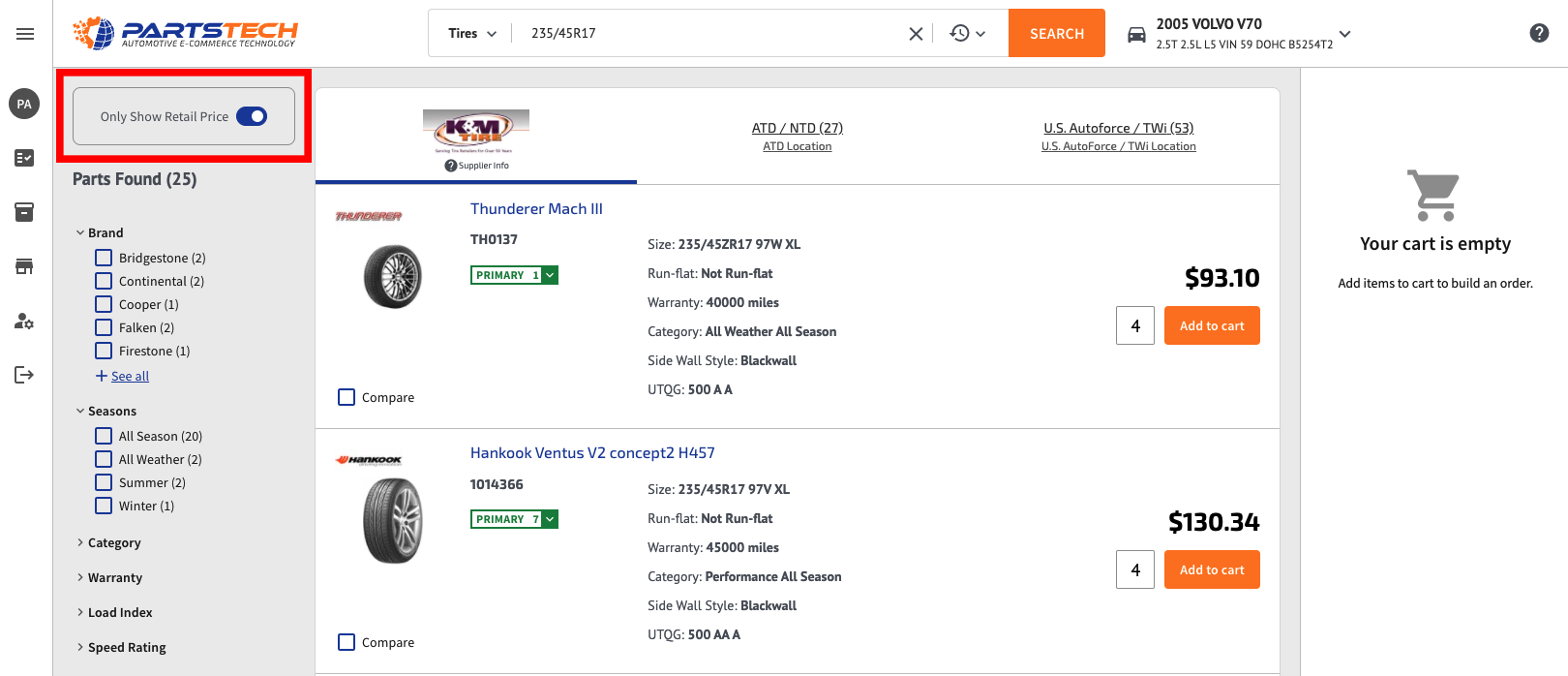 Once you've set up your shop's Tire Pricing you can quickly hide your wholesale cost with this new toggle at the top left-hand corner of any Tire search result page. This lets you flip the monitor around and show the customer cost for those tires.
Send Customers a Mobile-Friendly Quote With Out-the-Door Pricing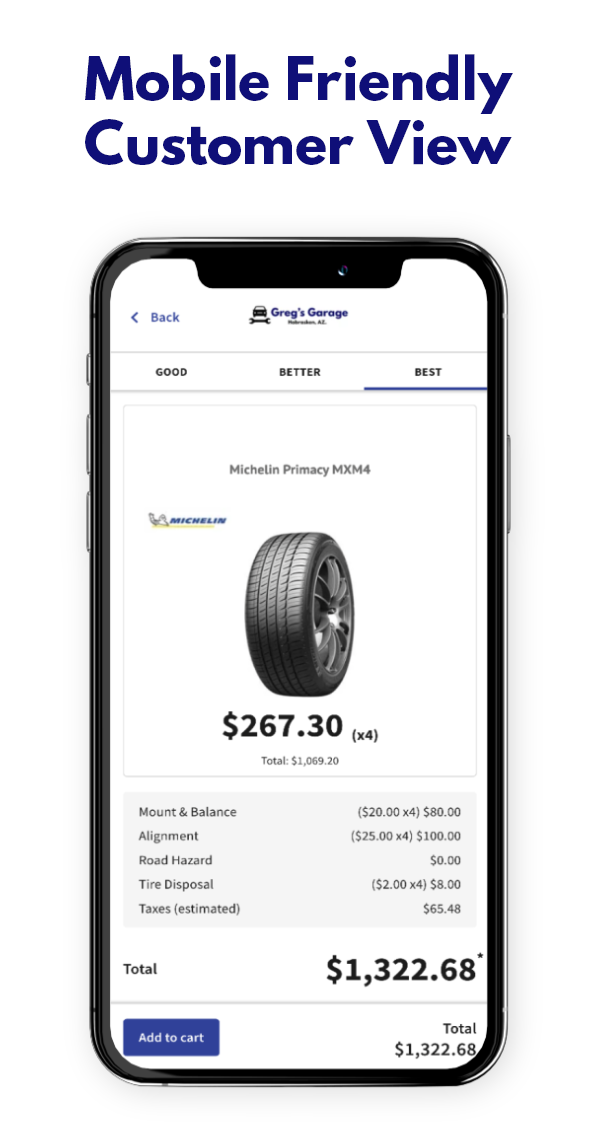 Once you've built a Good/Better/Best comparison you can Print, Email, or Text the customer a link to a mobile-friendly quote with their out the door cost. When the customer makes a selection, PartsTech will send you an email linking you back to that quote. The customer's selection will be automatically added to the work order in many supported management systems.
We're excited to open this feature up to all of our PartsTech Tires subscribers! We hope this new tool helps you boost tire sales by putting more choices in the palm of your customer's hand.
News & Events:
Thanks For Stopping By the Booth at VISION KC & NADA!
Earlier this month we exhibited at VISION Hi-Tech Training and Expo in Overland Park, KS. followed by NADA in Las Vegas, NV. Thank you to everyone who stopped by the booth to say hi!
This weekend PartsTech will be exhibiting at the NETSA convention in Foxwoods Resort Casino in Mashantucket, CT. Be sure to stop by the PartsTech booth if you're in attendance.